The juice bar seems like a very So-Cal, or maybe even So-Flo, concept that might be a bit out of place in the grittier, busier environs of New York City.
But the fact is that the concept has taken off in the Big Apple, just with the expected New York twist. And you do not have to be one of those gym rat types to enjoy a visit to a juice bar.
SEE ALSO: Best Vegan Restaurants in NYC
Here's a look at some of our favorite juiced up hangouts in New York City right now.
Melvin's Juice Box
Melvin's Juice Box is actually set inside the uber popular Caribbean joint Miss Lilly's but Melvin Major has made such an impression that the New York Times dubbed him "New York's first celebrity juicer." having learned his 'trade' via 20+ years of working in various health stores across the city.
Melvin's menu is a plethora of fruity delights that taste nothing like you might expect healthy drinks to at all. In other words, they taste really good, even decadent in some cases.
Our favorites include the Harry Fontabella (rice milk, banana, granola, and blueberry or strawberry) the Peanut Butter and Jelly (blueberry or strawberry, banana, granola, organic peanut butter and soy milk) and the Immunity Booster (Apple, beets, blueberry, ginger, carrots,vitamin c, echinacea, b-complex, banana) which is as tastier way to ward off a cold as we have ever encountered.
Melvin's Juice Box is located at 130 W Houston Street
Liquiteria
Since first opening up in the East Village in 1996, the Liquiteria empire has grown to encompass five locations in New York City and five more in Boston.
And although their menu has expanded along with it and now offers all kinds of delicious, vegetarian (and sometimes vegan) friendly fare, it's still their cold pressed juices that draw people in from miles away.
Although to be healthiest of all you should probably opt for one of their All Green juices - the slightly sweet All Greens with apple, lemon and ginger is surprisingly tasty for a juice that also contains kale, spinach, romaine, parsley, celery, and cucumber - missing out on the Grasshopper - a combination of pineapple, apple, mint, and wheatgrass - would be a real shame as it is so light and refreshing.
Also worth a try is the Killer xx, a perky mix of apple, lemon, ginger and cayenne that will Wake up more than just your tastebuds.
Liquiteria branches are located across Lower Manhattan.
Whole Green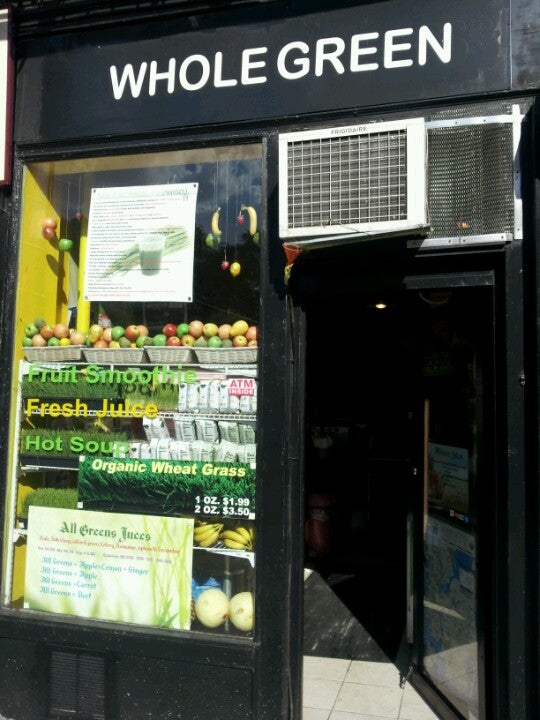 If Liquiteria is a little too crowded for you - and maybe a little too hipster - then this friendly little West Village juice bar may be more to your liking.
Compared to its larger peers the prices are a real bargain - usually under $5 for a decent sized juice cup - and its menu impressively extensive and changes on a weekly basis
Juice combos of particular note include the Apple All Green, which has a fresh, crisp taste, the Apple, Lemon and Ginger, which is a great palette cleanser and the sweet but not too sweet Pineapple Mango.
There is also a rotating selection of smoothies you might want to give a try as well.
Whole Green is located at 35 7th Avenue
8th Wonder Juice Bar
The juice menu at 8th Wonder, which is a bright, welcoming spot, is huge, so there really is something for everyone.
Both cold pressed and fresh squeezed juices are on offer and at very reasonable prices too.
On the cold pressed side the Kiss of The Dragon, a mixture of orange, ginger, mint, green apple and cucumber can be highly recommended and on the fresh the Pineapple Express, a pineapple, spinach, apple, mint and ginger refresher that really hits the spot and the vegetable-heavy Rainforest, a very healthy combo of kale, parsley, spinach, celery, cucumber and lemon that tastes a lot better than it sounds.
8th Wonder Juice is located at 370 2nd Avenue